Some people will know I've had issues with KLM in the past specifically when their policy was to allow aircraft to depart with exit rows unoccupied; a situation EASA believe represents "an inadequate level of safety". Despite this, they're one of only three airlines that offer service from my local airport and then only one with a sensible (so I thought) connection for my upcoming trip to Portugal, so I find myself flying with them again and the issues start before I get to the airport!
Baggage allowance
Here is the picture used to illustrate baggage allowance on my upcoming flight;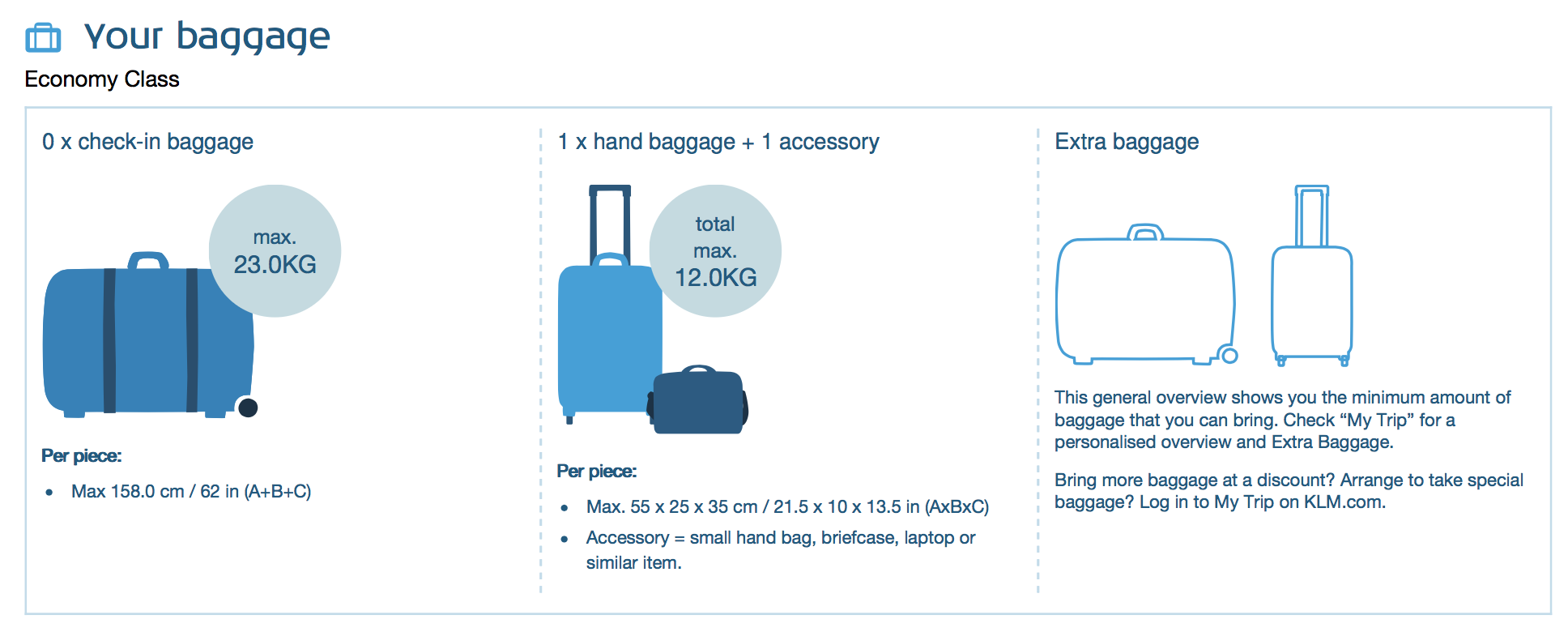 At a glance, how much baggage have you got?
The way this is shown is terrible, the check-in baggage is in fact 0x check-in baggage, but is shown in the same prominence as the "1x hand baggage + 1 accessory" and, indeed, shown first. This is terrible interface design.
Instead of "0x" don't show it, the maximum weight and dimensions are irrelevant if you don't have any.
If you must show it, use the word no rather than 0x. Something like No included check-in baggage is far clearer.
Showing "Extra baggage" on the end in a very different style very much implies that it's "Extra" to the other two things shown, one of which isn't actually included.
Here's how this could look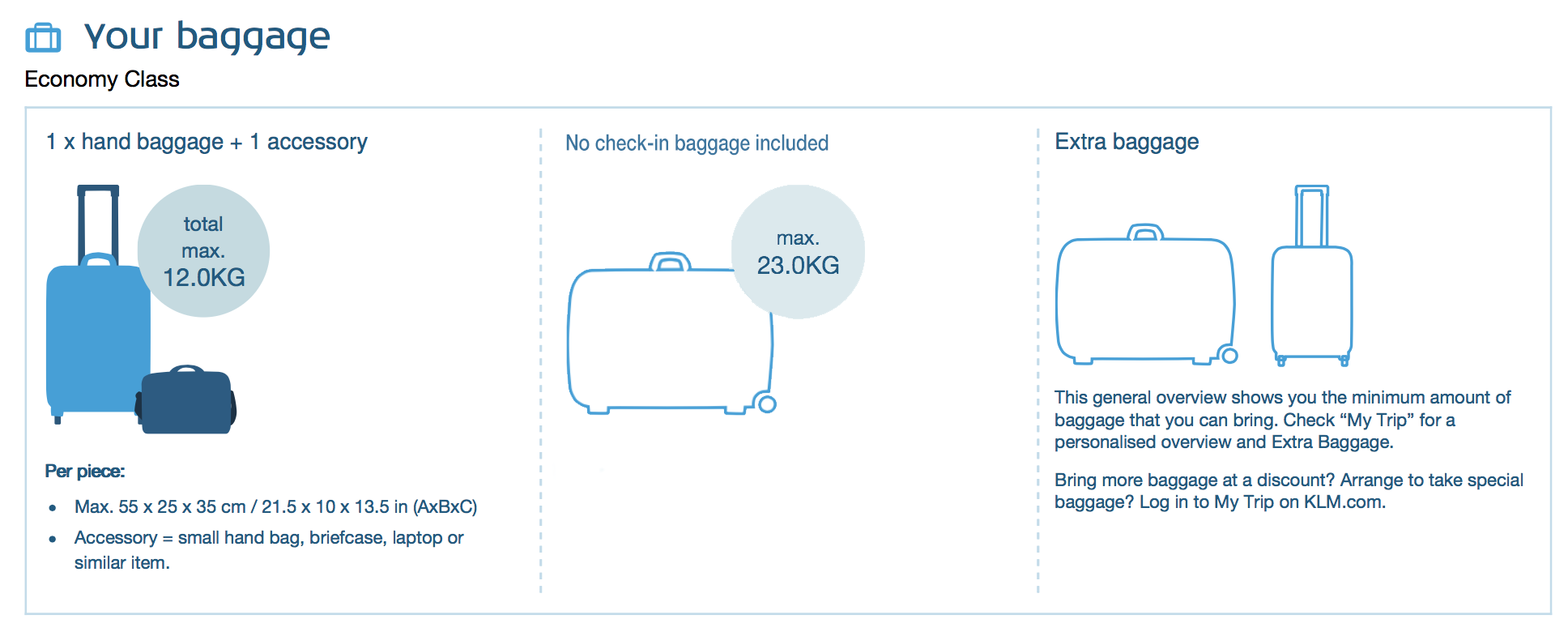 Which is clearer?
Booking baggage
Ok, no worries, it's a pathetic bit of design, lets book some baggage - my confirmation says clearly
Bring more baggage at a discount? Log in to My Trip on KLM.com
No, problem, let's do that...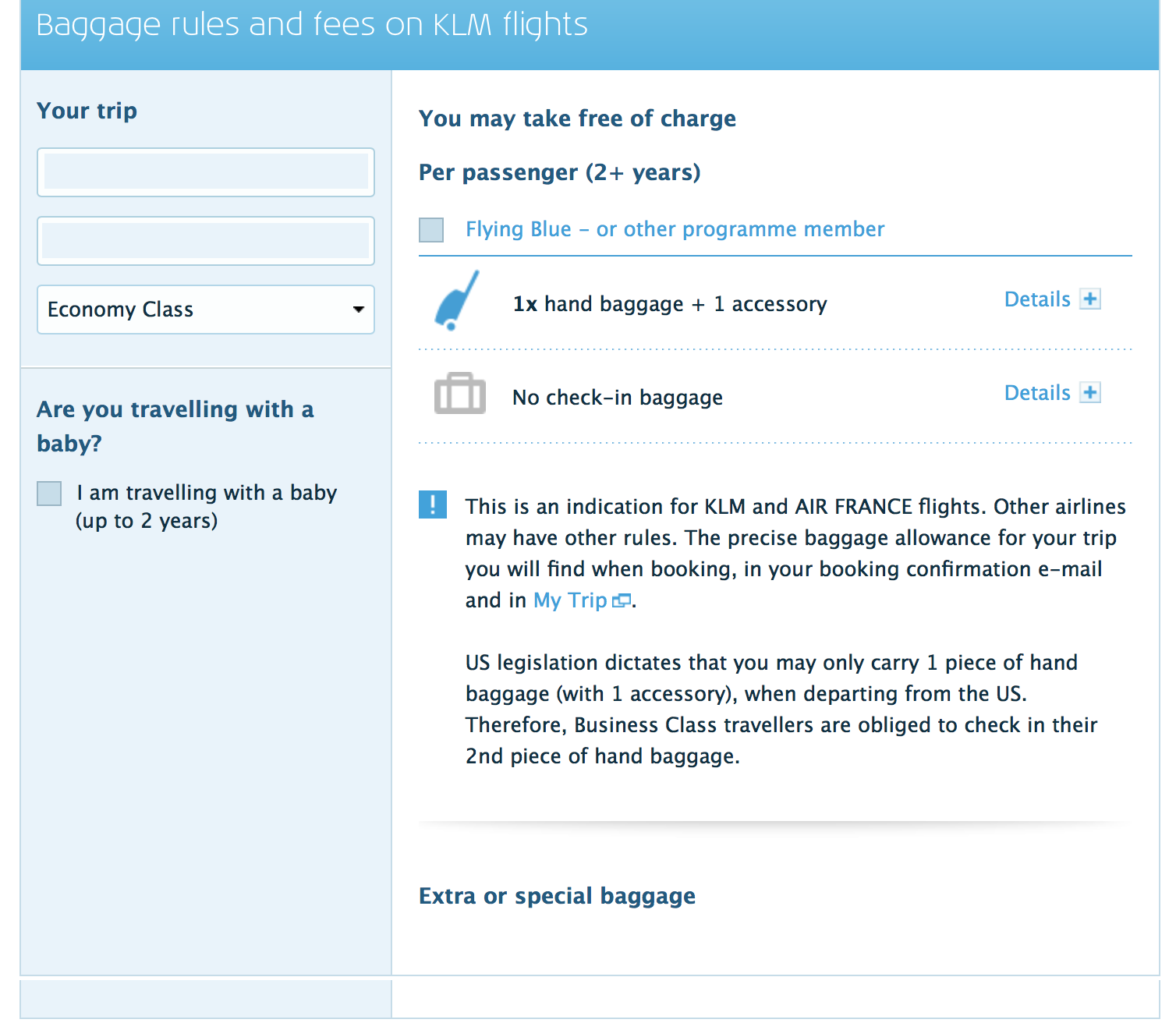 Where do I book more baggage? there is nothing under Extra or special baggage and to add insult to injury the progress indicator for this tool looks like this;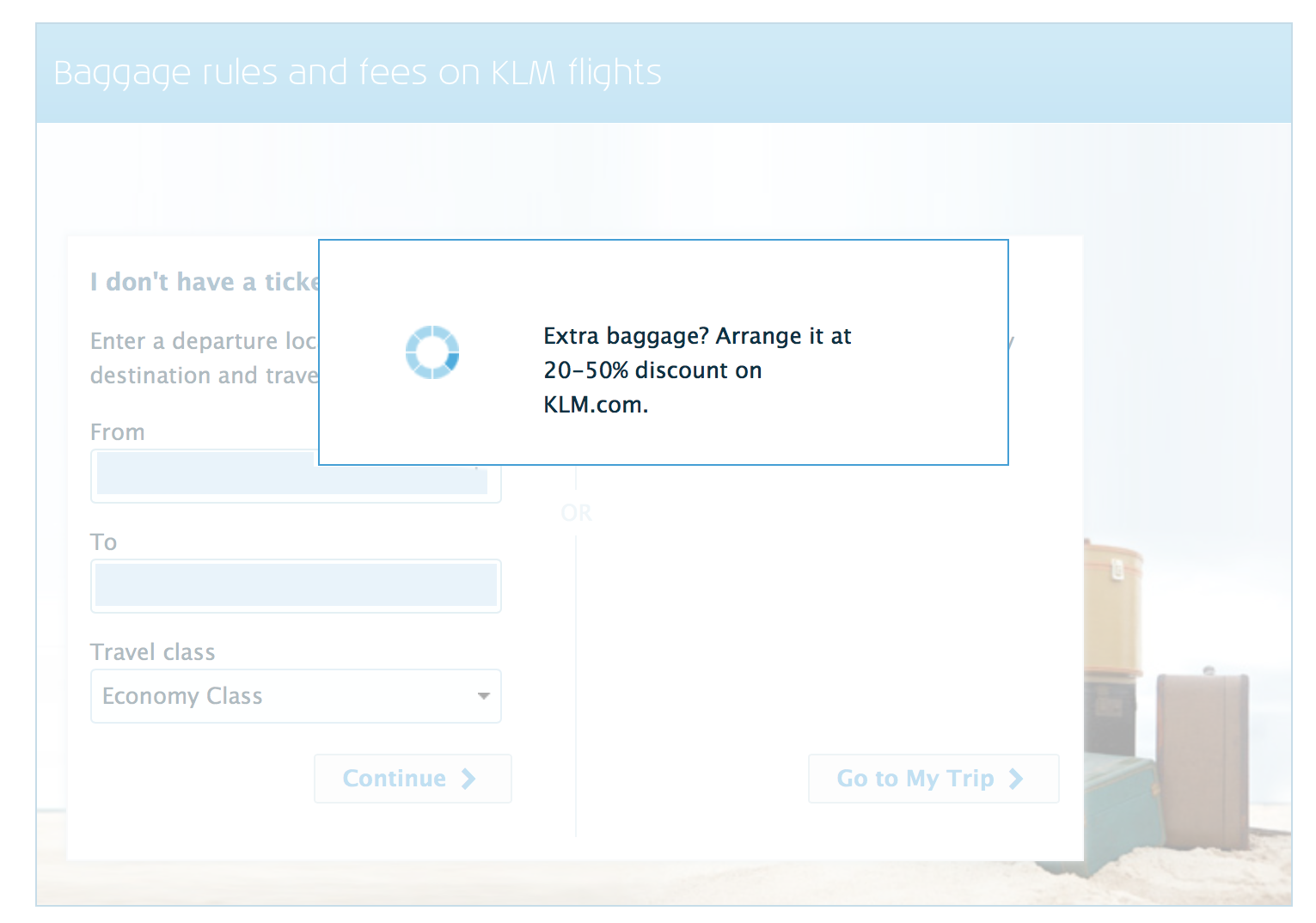 (a) I'm already on KLM.com
(b) I can't arrange it!
Why not?!
KLM provides support by IM using Facebook Messenger, quite innovative for an airline and I'd love to see the likes of BA and others do that too..
Here's the reply
Hello, Ross. It's indeed correct that a check-in baggage is not part of your baggage allowance. You should be able to view this in the e-ticket and also via "My Trip" at http://klmf.ly/1iA4045. Because your trip contains flights operated by more than one airline, unfortunately, it would not be possible to purchase additional baggage in advance. This can be done only at the airport. You can check the baggage rules and fees via our Baggage Calculator tool at http://klmf.ly/2mohbiL. Thanks for your patience and cooperation in this regard.
In the screenshot you sent, it's clearly stated that you are only allowed to bring the standard hand baggage. The email you received about adding excess baggage is a standard automated email. Every passengers receives this, regardless of the kind of trip they booked.
Firstly, the Baggage Calculator tool is the same as the one above, it doesn't work.
Secondly, whether or not that's "clearly stated" is up for debate as can be seen above. Also you send every passenger an eMail, even if it's not relevant to them? That's just shoddy and there's no excuse for it really!
Finally... hang on a minute, "contains flights operated by more than one airline" ... news to me, let's log in to "My Trip" and look at my flights... (apologies for the excessive redaction)

Both start with the KL code, both have a KLM logo on them where the operator is shown. Looks to me like they're both with KLM...
Turns out, although you can't see it unless you drill down beyond this level, that the second flight is operated under the brand Transavia ... however, this is wholly owned by KLM!
KLM's response;
It doesn't matter that Transavia is part of the Air France-KLM group, we cannot add baggage to flights operated by other airlines. Our system doesn't allow this. We can only add excess baggage when the entire outbound or inbound is operated by KLM and/or Air France. Therefore you can only arrange the excess baggage at the airport.
That's ridiculous, how can "their system" not allow that but the one at the airport somehow miraculously can? It's still a KLM bag drop desk...
What the FAQ...
People always say to read the FAQ, it has this to say;
Avoid paying the excess weight fee at the airport: simply reserve for an extra suitcase (of up to 23 kg!) online. Only KLM.com you always get a 20-50% discount!

For flights within Europe on which only hand baggage is free, you pay online EUR 25 (airport price EUR 35) for a suitcase (of up to 23kg) per flight. Flying Blue Ivory members receive up to EUR 10 discount on the first piece of paid check-in baggage when travelling in Economy Class on flights operated by KLM or AIR FRANCE worldwide (except for flights between Europe and USA, Canada and Mexico)
Ignoring the somewhat dubious description of "worldwide", which somehow excludes the entire Americas, this clearly says you always get a discount of 20-50%, but it's completely impossible to book it, let alone book it at a discounted rate.
I've also not even had confirmation from them that the price is EUR 35 at the airport and, even if it is, why should I pay 70 EUR when I could have paid 50 EUR online, and was led to believe this from their own website?
Huh?!
Continuing the theme of appalling UI (or testing!) after reading this, and going back to the previous page (which showed my flight information) it now has this banner at the top;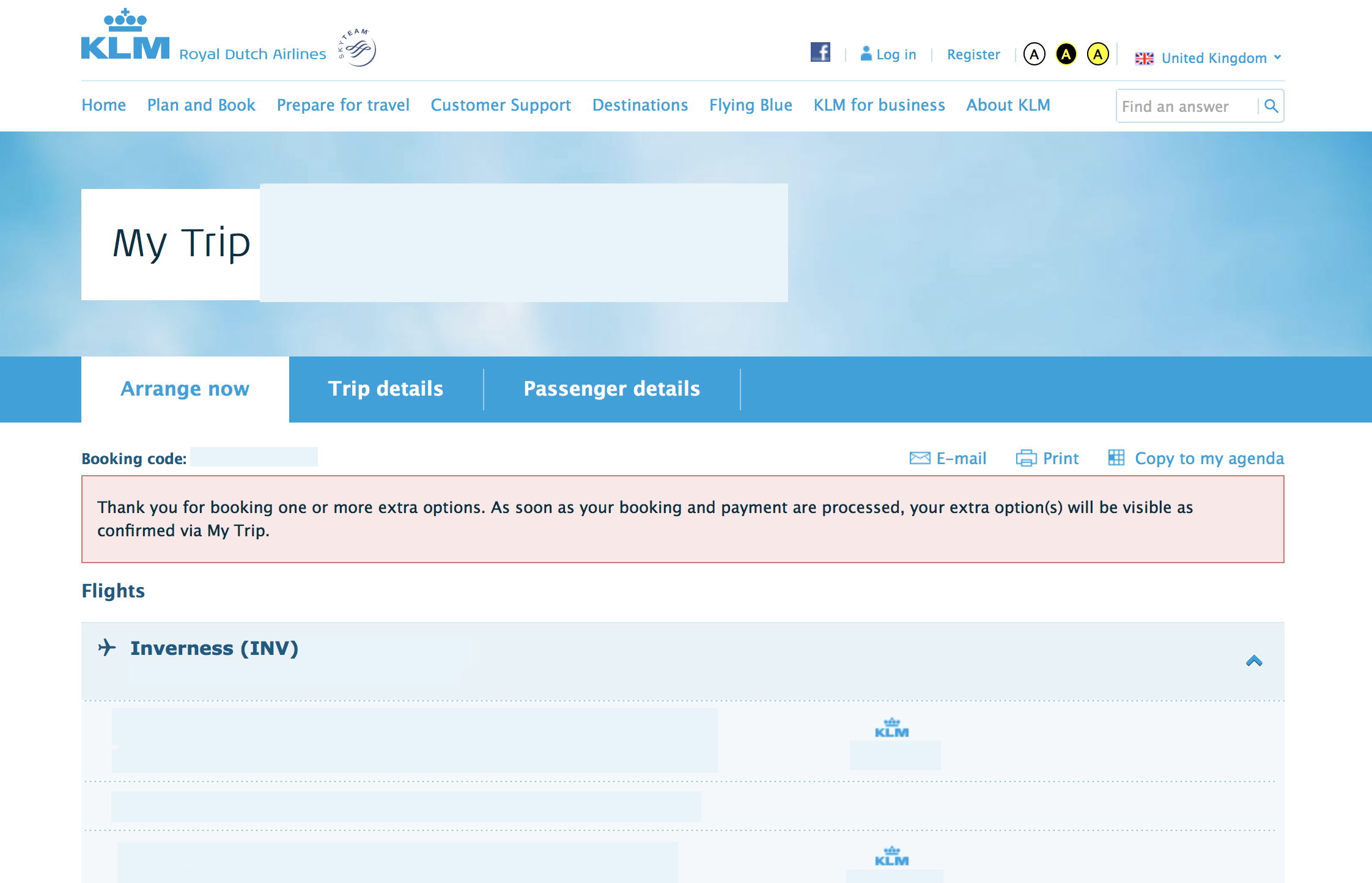 What the hell? Thanks for booking extra options?!? I haven't. Ironically, it's what I came to the website to do and you refused to allow me to at every turn.
Despite this you're now thanking me for booking something I haven't booked and saying "as soon as my payment is processed" it'll be added.
What will? what payment?
I'm going to assume this is just badly coded software. I guess we can be glad the same people who build the website and booking systems aren't responsible for the avionics on board.
---
This is the second time since my last complaint that I've flown with KLM, being keen to put past disappointment behind me, and this faff has somewhat tainted the experience already.
Unfortunately my choices are rather limited from my local airport, and KLM brings a lot of destinations within easy reach via Schiphol but I really wish their customer service was better.
At the moment I'm regretting not driving 200 miles to another airport (and considering sending my luggage by FedEx or DHL!)