Update 6th November Knew it was too good to be true. Seems Jack completely lied about what they'd done, because apparently the order has been cancelled (again) and I've been refunded (I haven't)... so I now need to phone and re-order the same products (apparently they'll honour the original price, but of course I now have to explain all this again)
Update 4th November Doesn't bode well, the promised delivery date never happened :/
Update 2nd November Finally, common sense, Jack (thanks!) in their twitter customer service team offered to get these sent to me next week.
Update 1st November Argos (the local store) have now, entirely coincidentally (yeah, right!) on the day the offer ended, contacted us to advise that the warehouse have cancelled the order and we shouldn't expect to receive the goods we paid for. Feels like nothing more than a scam.
---
Living in a rural area Argos is actually one of the better online shopping options, same day delivery on a lot of things (even though I'm in the middle of nowhere) is a real selling point.
Recently, they had a special offer on Philips Hue, and I had need for a load of lamps, so I placed a not unsubstantial order with Argos for collection from my local store on Tuesday 24th October.
On Sunday 22nd October I get this SMS
Good news! It's time to collect your Fast Track order from Inverness Eastfield Way. Pop in by 31-10-17 with no. FRxxxxxx and code 1234
Trip #1
So I drove the 16+ miles to Argos to collect my order (which consisted of 18 lamps, one starter set, and a free motion sensor)
At this time the website indicated that only the starter set and motion sensor were in stock. I left with.... a free motion sensor, nothing else which was all apparently "due on Tuesday"
Tuesday
On Tuesday I get no message from Argos, and the website is a bit contradictory;

However, I took this screenshot at 5pm on Tuesday. I spoke with someone at Argos who confirmed it would "be ready from 9am on Tuesday" and the website was "wrong" ... so I drove back to Argos.
Nope, nothing in stock.
Wednesday - Online Chat
Argos do customer service by Live Chat, it's of variable use. I had a lengthy conversation in which the agent said the following;
this is showing that this will be in store at 4pm today
and
on this order it is showing delivery is due at 4pm today
Seems pretty unambiguous, no...
They also said
the store can reimburse your petrol costs out of petty cash. please accept our apologies for the inconvenience caused
Which, whilst a nice gesture, isn't the point... but as we later find out, they didn't mean it anyway.
4pm
What i will do for you is get in contact with the store and speak to them and see what is going on then i can give you a call, if thats okay?
I asked for eMail instead
Okay that is fine, i will email you with all the information that the store give me
thanks
It's worth noting if you ever do have to talk to Argos, that the eMail me a transcript option doesn't work (I do wonder if that's intentional)
Needless to say the promised call, or eMail, never materialised.
Thursday
I finally get hold of someone on Twitter who calls the store and then calls me to tell me that they've put them aside on a different order number, and they're ready to collect.
So, trip #3 (35 miles round trip remember!) and they don't have the damn products! - they do have ONE of them, and after 30 minutes of standing in the store arguing I was allowed to take that.
Apparently, customer services only asked about one item when they phoned the store (and no-one noticed that his would be the equivalent of a light bulb costing £150... it was really obvious from the order value that it wasn't one item!)
Complaints?
I've now wasted well over 5 hours dealing with this, together with over 100 miles (45p/mile is considered a fair estimate of the cost of private mileage, so an estimated £45 it's cost me) to deal with Argos' incompetence. At the time of writing the website still says it'll be ready on Tuesday!!
Returning again to Twitter, because that's the only place I've had a sensible response (even at 3am which was rather unexpected) I asked for a contact address for head office or for complaints...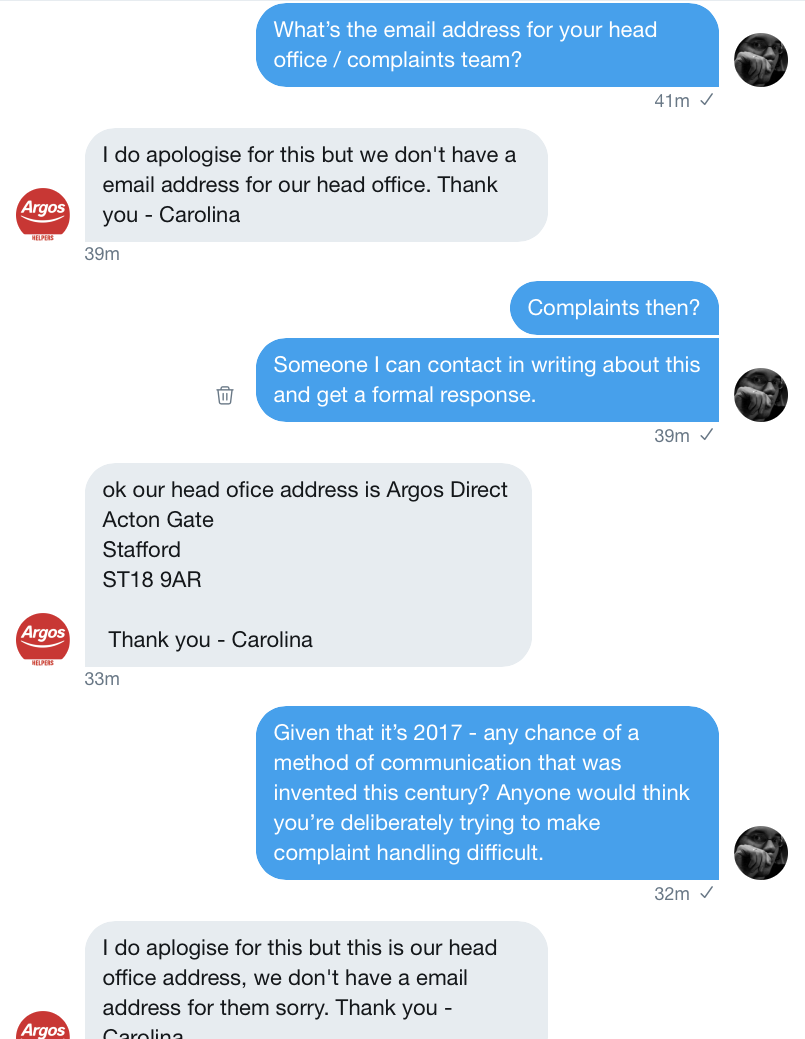 Well that's one way to avoid dealing with your customers. In 2017, for an online store, your only means of making a formal complaint is by sending a letter
Almost like Argos don't want to hear from people isn't it.